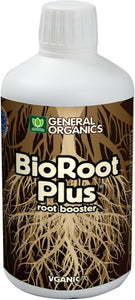 FutureFarms.store
GHE Bio Root Plus 500ml
Regular price
Rs. 424.00
Rs. 0.00
Unit price
per
BioRoot Plus is a natural root growth supplement that helps plants establish healthy and vibrant root systems. It contains vitamins, enzymes, organic and humic acids that stimulate root mass.
BioRoot Plus is outstanding for seedlings and cuttings, helping young plants develop strong and massive root systems. For mature plants BioRoot Plus will maintain health by improved nutrient uptake.
Also use BioRoot Plus to soak your seeds in order to increase the germination percentage while improving the health of the young seedling.
---