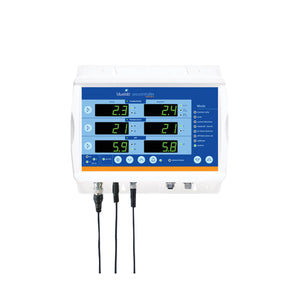 FutureFarms
Bluelab Pro Controller
Regular price
Rs. 114,578.00
Rs. 0.00
Unit price
per
When connected to a dosing system the Bluelab Pro Controller Connect
 

manages pH, conductivity and temperature levels in reservoirs. As your plants feed, pH and nutrients are automatically adjusted to the desired range.
Monitor and automate nutrient and pH dosing in reservoirs when paired with Bluelab PeriPod dosers
In-built safety lockouts prevent excessive dosing
Auto-resume dosing after power loss
View your reservoir parameters on your mobile phone no matter where you are
Multi-part nutrient dosing possible with multiple PeriPods and Connect software
Controls pH in the up (alkali) or down (acid) direction
High and low alarms to alert you when parameters are out of range
Dosing routine allows for effective mixing before next dose
2-metre/6-ft cable lengths for best positioning and viewing
Monitor, data log and control your system in real-time for immediate response to personalised settings and system alerts, direct from your computer.
*used with the Bluelab PeriPod units
---