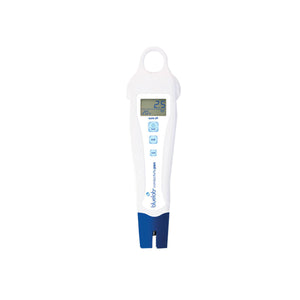 FutureFarms
Bluelab EC/ppm Pen
Regular price
Rs. 8,108.00
Rs. 0.00
Unit price
per
The Bluelab Conductivity Pen simply tells you that your plants have the right amount of nutrient in your solution and lets you know if adjustments are needed. Measuring the conductivity every day is the best way to avoid over-diluting or over-concentrating your nutrient solution.
Fully waterproof, not just water-resistant
Selectable measurement units so you can customise with your preferences
Flat electrode for easier cleaning and maintenance
Hold reading function to capture every measurement with ease
Automatic temperature compensation for accurate readings anywhere
Auto-off function to extend battery life
1 x AAA alkaline battery included, getting you started immediately
Providing quick and accurate readings at the click of a button, you can rest assured that the user-friendly Bluelab Conductivity Pen will give you reliable results, every single time.
All our products are designed for the grower's environment – not the lab – so you can be confident that the Bluelab Conductivity Pen can handle the knocks and drops that come with daily use. This fully waterproof product will even float when it lands up in your reservoir.

In addition, this product offers a range of in-built measurement units, so you'll be able to customise it according to your preference. For conductivity readings, you can choose between EC, CF, PPM 500 (TDS) or PPM 700; for temperature, you can select ˚C or ˚F.
The Bluelab ppm Pen also measures the temperature of the solution, as root health is vital to the success of a crop
. To make sure the plants can get at the food, you need to measure the pH of the solution.
---